$5 ORIGINAL DRAWINGS UPDATED 3-6-10
1. Send me a photo
Ex:
2. Specify medium
charcoal
acrylic paint
oil paint
colored pencil
oil pastel
pen & ink
3. Specify size
5x7 drawing: $5 shipped
11x14 canvas board: $50 shipped
15x20 canvas board $60 shipped
18x25 canvas board $80 shipped
EXAMPLES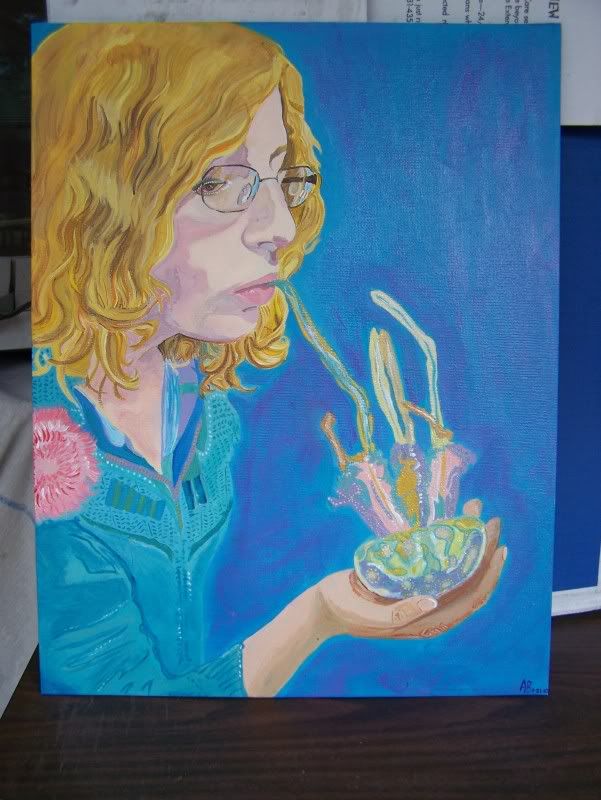 EXAMPLES OF MY ARTWORK, PAINTINGS, PLUSHIES AND DRAWINGS ARE HERE:
http://viewmorepics.myspace.com/index.cfm?fuseaction=user.viewPicture&friendID=16526689&albumId=1601996
I will do *custom* commissions. Pricing will be based on time, cost of materials, and complexity of work. I specialize in portraits, and it takes me about a week to finish a painting.
Please don't hesitate to ask if you have any questions. (:
contact me at
bluebird93@comcast.net
, through myspace message, or livejournal comment to inquire about a custom painting.
----------------------------------------
----------------------------------------
----------------------------------------
---------
PLUSHIES
toasty plushies. really cute. comes with or without keychain attachment. measure approx. 2 inches tall. each one is handsewn from felt and stuffed with polyfill. one of a kind!
audrey. $8
"hypnosis"
16x20 in.
acrylics on canvas board
$25-
owl
(double sided)
robot
robot-monster ID card holder. opens and closes with button. make an offer.
cracked tooth. custom-made for amberly. SOLD
tree.
sleeping child plush. perfectly fits in a child's hand. $5 warning: this item contains small buttons which can be swallowed. use caution.
sad cup o' joe. perfect for those monday morning blues. comes with attached smile-ey wisp o' steam and black coffee inside. handsewn from felt and stuffed with polyfill. $5
rainbow with hanging stars. handsewn out of felt and stuffed with polyfill. perfect for hanging in a room to brighten things up.
hardcore set of teeth (with braces!) shown with card for size. perfect for your favorite metal-mouth.
red owl. inspired by my t-shirt, haha. $5
bunny () and
cupcake
() plushies. (sold seperate or together, whichever you wish)
tenorikuma raccoon. handsewn.
asian girl plushie. sewn out of an old t-shirt. her face needed to be sewn so I stitched her up rather badly, therefore dubbing her: "car crash victim". oh well, she's grown on me nonetheless. $2

Comments {18}